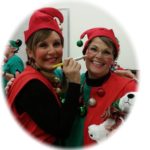 Are you looking for that perfect gift to add to someone's Holiday list? The OC Sound Chorus has just the thing!
For only $10 per song, we will call anywhere around the world and deliver a personalized greeting to your friend or loved one. Just imagine the surprise when your special person receives that call!!
The members of OC Sound Chorus really enjoy this time of year, as we get to share our love of four-part barbershop harmony all across the country. We have the most fun bringing joy and laughter, and sometimes, special tears of love & memories to the recipients of our Holiday Singing Grams. The lucky recipient will never forget this one-of-a-kind gift.
Calls will be made on Saturday, December 21, 2019, during the day.  If the recipient is not home, we will leave a voice mail with the song. Order yours today by completing the order form below for each recipient. Order as many as you like! Once you're done, use the PayPal button to provide secure online payment.
Psst…You can order one for yourself too! We'd love to sing for you!
If you prefer to pay via check or cash, then download this form and provide payment to any member of the OC Sound Chorus.