We join hands to create a force capable of bringing peace, inclusivity, diversity, and equity.
Do you love to sing? Are you a singer looking for a new challenge? Do you love performing? Would you like to learn more about the art of singing?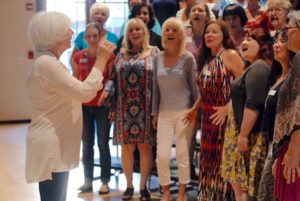 Would you like to be part of a fun, upbeat and energetic group of singers and friends? Have you been searching for a chorus or choir in Orange County to call home?
If the answer to any of these questions is "yes", you'll fit right in with the women of OC Sound. Join our chorus, and you will find all of this…and more!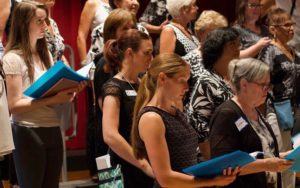 The OC Sound Chorus is a local chapter of Sweet Adelines International, an amazing organization of over 23,000 women from around the globe who love singing four-part a cappella harmony. Sweet Adelines empowers women by helping them find their voices, build confidence, enhance vocal abilities, improve leadership and management qualities, and create a lifelong support system of sisterhood and friendship.
Visit a rehearsal and get to know us!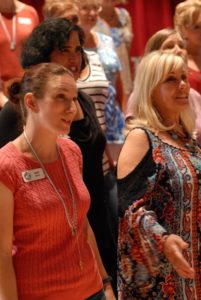 If you love to sing, this is the group for you! Our members come from all sorts of musical backgrounds—from those who are just starting out to those who've sung in choruses and choirs all their life.
Musical knowledge is not necessary to join — voice training and music education are valuable components of member's benefits.
Prospective members are welcome at any of our Tuesday evening rehearsals. We currently hold rehearsals in-person in the Laguna Woods area, as well as through a live-streamed video feed for members who wish to participate from home.
Interested? Contact us today to schedule a rehearsal visit!
SaveSave
SaveSaveSaveSave
SaveSave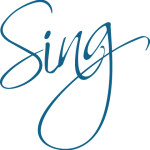 SaveSave